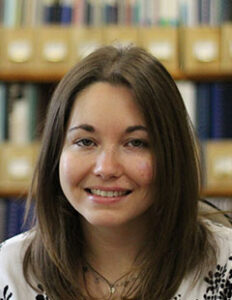 By Dr Laurie Batchelder, Research Officer at PSSRU Kent
Greetings from America! Just a quick update on how things went at ISPOR this week (International Society for Pharmacoeconomics and Outcomes Research – 22nd Annual International Meeting). I gave a talk on our preliminary work on the generation of preferences for the ASCOT-C in the English data, which was well received. I fielded a few questions about how we plan to compare these preferences for the ASCOT-C across countries, so I highlighted our plans for the cross-country analysis using a pooled model. Many people were also interested in when we plan to publish the ASCOT-C work, which is great news! In addition, my presentation had been selected as an ISPOR 22nd Annual International Meeting Research Presentation Award finalist!
I also presented our preliminary work on the comparison between face-to-face versus internet data for eliciting SCRQoL preferences using the ASCOT-S in the English dataset, which was also well-received.  Similarly many were very interested in this work and asked questions about the presentation of the Best Worst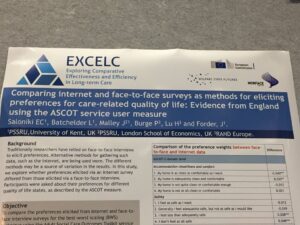 Scaling task & how this differed between the two modes. There was also a focus on looking at heterogeneity in a very detailed way (which we plan on doing). Again many people were very interested in ASCOT and when we plan to publish this work, which is great news!
In general, I found that there was a lot of discussion talking with others (economists, pharmacists, consultants) after the talk, at the poster, and even in some preference sessions that other methods, such as BWS is the "way forward" and the "next step" with eliciting preferences, given it's less cognitively burdensome and that it provides more detailed information within a profile compared to TTO,  which I think is really promising.
Full poster and presentation references:
COMPARING INTERNET AND FACE-TO-FACE SURVEYS AS METHODS FOR ELICITING PREFERENCES FOR CARE-RELATED QUALITY OF LIFE: EVIDENCE FROM ENGLAND USING THE ASCOT SERVICE USER MEASURE
Saloniki E1, Batchelder L1, Malley J2, Burge P3, Lu H3, Forder J1
1University of Kent, Canterbury, UK, 2London School of Economics and Political Science, London, UK, 3RAND Europe, Cambridge, UK
CARER SOCIAL CARE-RELATED QUALITY OF LIFE OUTCOMES: ESTABLISHING PREFERENCE WEIGHTS FOR THE ADULT SOCIAL CARE OUTCOMES TOOLKIT FOR CARERS Batchelder L1, Saloniki E1, Malley J2, Burge P3, Lu H3, Linnosmaa I4, Trukeschitz B5, Forder J1 1University of Kent, Canterbury, UK, 2London School of Economics and Political Science, London, UK, 3RAND Europe, Cambridge, UK, 4National Institute for Health and Welfare (THL), Helsinki, Finland, 5Wu – Vienna University of Economics and Business, Vienna, Austria