EXCELC team at ILPN 2016
Here are members of the EXCELC team catching-up following another excellent ILPN conference last week (also see Storify of the conference here).  There were lots of interesting presentations at the ILPN conference and some great ones from the members of the EXCELC team, with Laurie Batchelder presenting some findings from the development phase of the preference study and Ismo Linnosmaa and Birgit Trukeschitz presenting some reflections on the process of translating ASCOT into Finnish and German.  Juliette Malley and Julien Forder also presented on related work and analyses to understand the effectiveness and efficiency of long-term care that we plan to update and expand upon as part of the EXCELC study.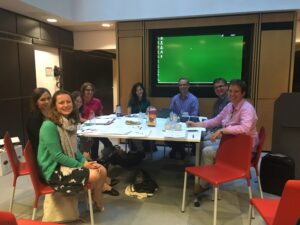 At our meeting we discussed the excellent progress being made in the fieldwork stages of this project.  Birgit Trukeschitz, Assma Hajji updated us on progress with the Austrian fieldwork, and outcome from the pilot. Ismo Linnosmaa , Lien Nguyen and Hanna Jokimaki similarly updated us on progress with the Finnish fieldwork and outcomes from the pilot. Juliette Malley, Laurie Batchelder, Eirini Saloniki and Julien Forder updated on progress with the fieldwork for the preference study across all three countries — Austria, England and Finland — which is now complete. Data has been sent to us by the fieldwork organisations and we are currently checking the data to make sure everything is looking OK. We also discussed our plans for our team meeting in February to be held in Vienna and the first meetings of the policy and scientific advisory groups.
More to come soon!